One of the most popular localities in Malta, Sliema is an exceptionally vibrant and sought after area. It is delightfully positioned next to the sea, allowing for impeccable views throughout. Sliema's architecture is beautifully integrated consisting of modern apartments, old houses and Baroque churches. Sliema attracts volumes of people all throughout the year for different reasons including entertainment, shopping and night life. In this article, we shall be discussing some iconic spots in Sliema.
One of the key distinguishing features of Sliema. Locals and revellers simply call it "the front". It is the place where joggers, dog walkers and strollers congregate, especially during the summer months! Whilst one is at the Sliema promenade, the Torri ta' San Giljan which dates back to the 1600s, can be admired. At the promenade, one also finds the Independence Garden, which is quite a tranquil spot.
Another distinguishing feature of Sliema. Together with the clear waters, one would enjoy the magnificent view of the Carmelite Parish Church. Just behind Ballluta Bay, a bristling piazza, to enjoy a coffee or two! This bay is considered to be one of the most popular that Sliema has to offer. Apart from the casual swim, you may wish to gather some snorkeling gear. You may be impressed with the fish-filled reefs.
One of the poshest areas in Sliema, with luxury apartments extending throughout the majority of the area, the beautiful gardens may be enjoyed after a hard day's work or to chill during the weekend. The marvellous sea-view complements this majestic location.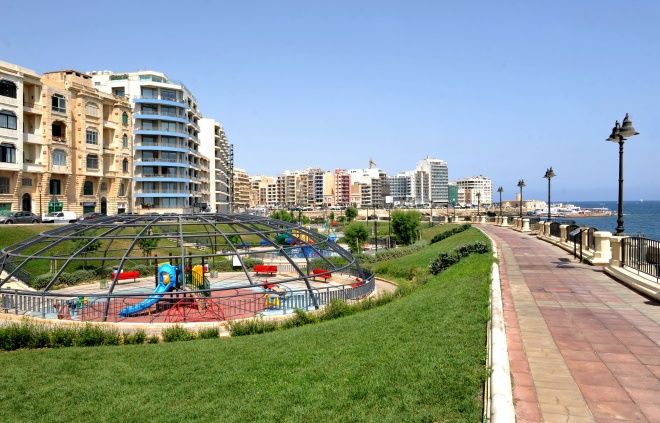 In a nutshell, the Fond Ghadir consists of man-made bathing pools. What is impressive about these baths is that they go back to the 1800s. They provide ample relaxation during the summer months. Think of them as natural bubble baths!
Strolling in the streets of Sliema gives you the opportunity to appreciate some of the locality's distinct churches. One of the most remarkable is the Baroque Stella Maris church. This impressive church dates all the way back to 1853. In High Street, one would notice the oldest religious building, constructed in 1802, known as the Our Lady of Graces. Throughout the summer months, most of Sliema's churches would be elegantly designed in anticipation of their respective feast.